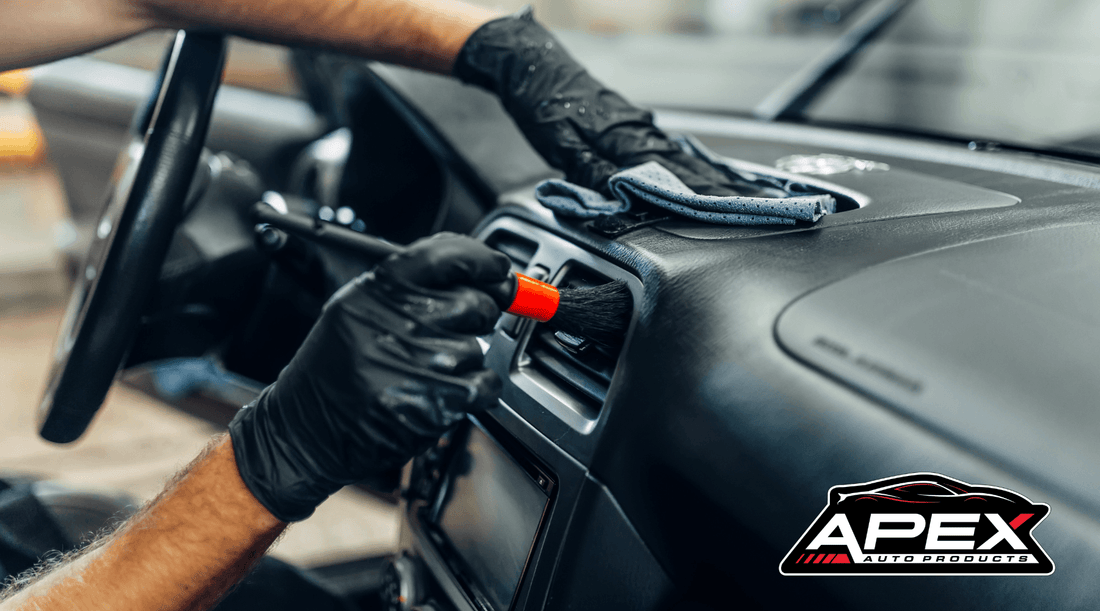 3 Tips and Tricks for Interior Car Detailing in the Summer
3 Tips and Tricks for Interior Car Detailing in the Summer
Choose the Right Car Care Products for Your Ride
Summer is the perfect time to put some extra work into your car. If your car's interior has been looking a little dingy, you can spruce it up with the right car detailing products and the right know-how. Use the following tips to get your car's interior sparkly clean.
Choose your glass cleaner wisely.
Your car deserves the most effective products, and that means choosing a streak-free glass cleaner that doesn't contain ammonia. If you use a glass cleaner with ammonia, you're likely to see your window tint begin to peel, develop discoloration, and bubble up. Instead, use APEX Glass Cleaner (which can also be used on your navigation and infotainment screens). After spritzing on the cleaner, use a microfiber towel and wipe down vertically on the interior. On the exterior, wipe across horizontally. This way, if you leave any streaks, you'll know judging by their orientation which side of the glass they are on.
Protect interior leather and vinyl components.
A vintage car (and even new cars) can develop discoloration, fading, and cracking of the leather and vinyl seats and dashboards. This is often due to old age. However, UV exposure during the summer can greatly accelerate the damage. Protect your ride with APEX Interior Detailer, which also protects plastics from sun damage.
Your car's leather components need special care. Restore the leather, and protect and extend its longevity with APEX Leather Care, which was thoughtfully formulated with lanolin and beeswax. It lacks harsh chemicals and leaves behind a pleasant, leathery scent. Applying APEX Leather Care regularly will preserve your leather for many years to come—a worthwhile investment in your pride and joy.
Use the right tools.
Microfiber towels are excellent cleaning tools for cars. Yet, there are plenty of nooks and crannies within your car's interior that microfiber towels simply cannot reach. You'll want to switch to using detailing brushes in these situations. Soft-bristled brushes allow you to achieve an incredible clean, making your car look showroom-ready.
With the five-piece APEX Detailing Brush Set, you can more easily remove dust and grime from the air vents, cup holders, gauge cluster, steering column, shifter boots, and every other hard-to-reach place. Detailing brushes work well on all types of material, including leather, plastics, vinyl, and trim. On the exterior of your car, you can also use them to remove grime from logos and letters.
Shop APEX Auto Products today for all of the car detailing products you need to keep your ride looking spectacular this summer. We offer a 100% risk-free guarantee on all of our car care products and tools.