Regular price
$149.99 USD
Regular price
Sale price
$149.99 USD
Unit price
per
Sale
Sold out
Introducing our new Graphene Ceramic Coating, with more solids and active ingredients which lasts up to 7 years. Crafted with cutting-edge nanotechnology, this advanced coating combines the remarkable strength of graphene with the durability of ceramic to provide unparalleled safeguarding for your vehicle's paintwork for up to 7 years. Prepare to experience an automotive transformation that will turn heads wherever you go.
Key Features:
Graphene Infused: Harness the incredible strength and heat-resistant properties of graphene, a carbon-based material renowned for its exceptional durability and structural stability. Our coating leverages graphene's power to fortify your vehicle's surface against harsh environmental elements.

Ceramic Shield: The Graphene Ceramic Coating forms a robust ceramic shield that acts as essentially a liquid layer of glass, safeguarding your vehicle from UV rays, oxidation, bird droppings, water spots, and chemical contaminants. Keep your car protected from the rigors of everyday driving.

Extreme Hydrophobicity: Say goodbye to water spots and say hello to a mesmerizing hydrophobic effect. Our coating enhances water repellency, causing water and rain to bead up and roll off effortlessly, ensuring your vehicle stays cleaner for longer.

Self-Cleaning Abilities: Thanks to the self-cleaning properties of APEX's Graphene Ceramic Coating, dirt, dust, and grime have a hard time sticking to the surface. Enjoy a low-maintenance vehicle, as dirt washes away effortlessly during routine washes.

Mirror-Like Finish: Immerse your vehicle in a captivating, mirror-like finish that will leave onlookers in awe. Our professional coating intensifies color depth, producing an eye-catching, high-gloss shine that transforms your vehicle's appearance.

UV Protection: Shield your vehicle's paint from harmful UV rays that cause fading and discoloration. APEX Graphene Ceramic Coating effectively reflects UV radiation, preserving your car's paintwork for years to come.
Easy Application:
APEX's professional grade graphene ceramic coating is designed for hassle-free application, making it suitable for both professional detailers and DIY enthusiasts. Follow our straightforward instructions and achieve a professional-grade finish in no time.
Caution:

Before application, ensure your vehicle's surface is thoroughly washed, decontaminated, and free of any swirl marks or imperfections.  Perform the application in a well-ventilated area and wear protective gloves.
Experience the pinnacle of automotive protection and shine with our Graphene Ceramic Coating. Elevate your car's appearance and safeguard it from the harshest elements on the road. Click 'Add to Cart' now and embark on a journey to automotive excellence.
Please scroll down past the review section to read about more technical details about what makes our coating, in our opinion, the best on the market.

**Product must ship via UPS Ground**
Share
View full details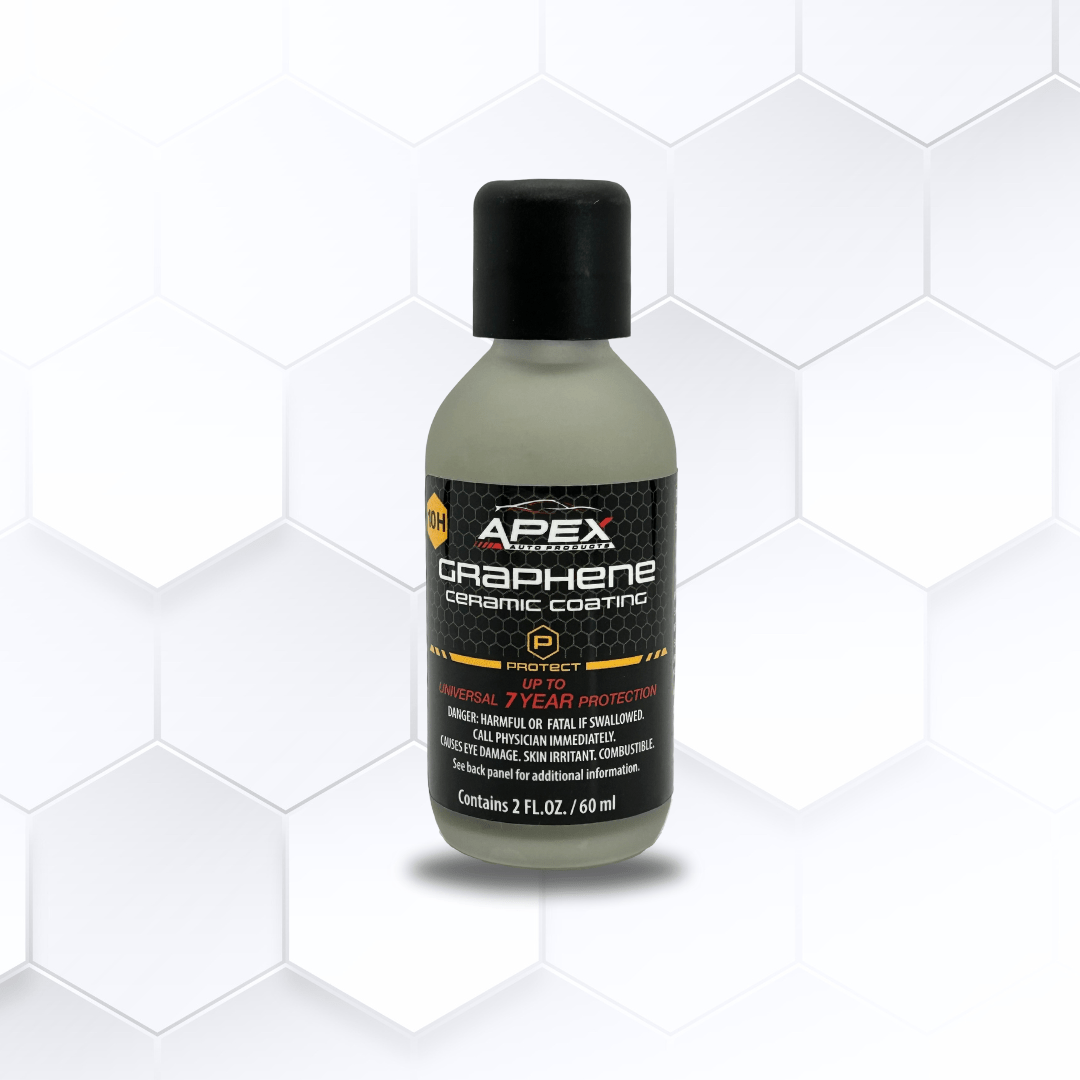 Tap For More Info:
QUICK DETAILS

-Graphene Ceramic Coatings allow for a much higher resin loading level compared to normal ceramic coatings.
-It is less prone to water spotting.
-3-4 microns thick (able to fill and bond to substrates on a molecular level)
-Increased hydrophobic properties. (Water slides off at angles of less than 10-15°. Previously it was only 20°+).
-Average water bead contact angles of 110-115° on any surface applied meaning that water rolls off easier allowing for better self cleaning properties and less chances of water spotting.
-The addition of graphene into our coating allows for a higher stain resistance of saps, bugs, droppings, and fallout.
-Increased mar/scratch resistance as the reduced graphene oxide adds tensile strength that boosts the hardness of the coating (10H hardness).

TIPS/ PRECAUTIONS

-There is a longer window for application once it has been laid onto a panel - the sweating signals to wipe off (if it hazes then its been too long).
-Don't apply in direct sunlight or onto a hot surface. Pick a temperature controlled environment.
-Maintain quarterly with APEX Spray and Seal to achieve peak performance.
RISK FREE GUARANTEE

In the off chance you are unsatisfied with your purchase, please take a look at our risk free return policy