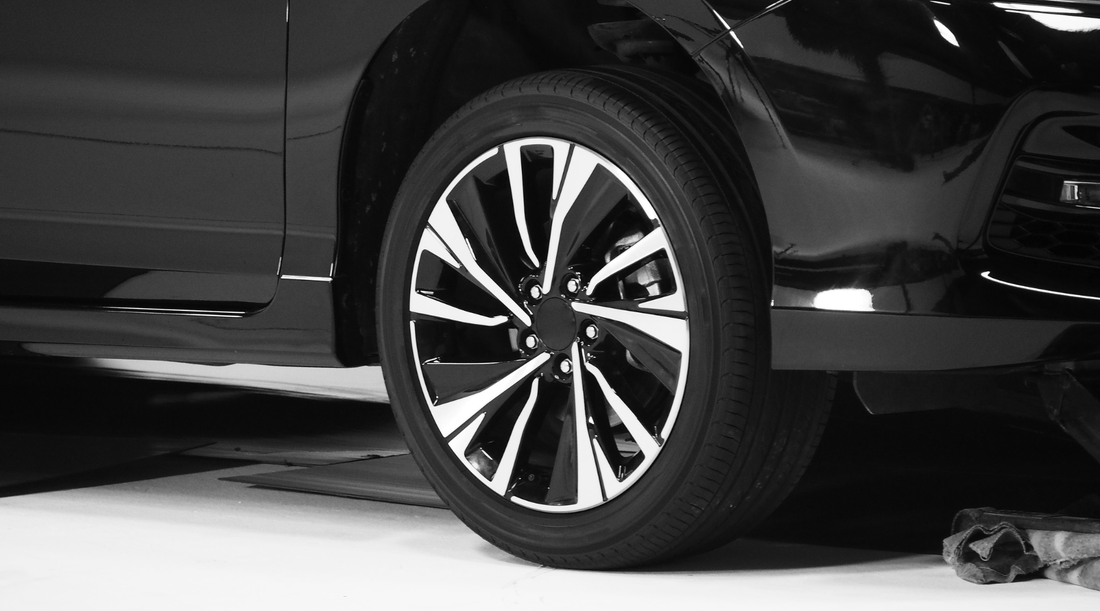 Which Tire Shine is Right For You?
Tire shine comes in a variety of forms (water-based, silicon based, solvent based, etc.) Each have different unique appearances and characteristics. 
We prefer to use water based tire dressings as it's easier to cleanup off of your wheels if there is overspray, it doesn't sling off onto the paint, and it still has a great shine to make your tires look like new. It will last a couple of washes, won't dry rot your tires, and is safer for the environment.
Acrylic Tire Protectant (semi-permanent, satin finish, no sling, water based)
The past couple of years we have been working towards finding a more semi-permanent approach to tire dressings. What we have brought to market is a water based, acrylic tire dressing. This is our Acrylic Tire Protectant. This product brings the benefits of a traditional water based dressing but packs more of a punch. The acrylic essentially bonds to the clean tire and leaves a satin finish. In a few minutes after the application, our product has sealed the tire and has formed a durable outermost layer. This protects the tire from oxidizing and "browning." It will keep white lettering/white walls looking white. The best part is, even with this layer of protection, the tire is dry to the touch and won't sling onto your paint.
To remove the product, all you have to use is a good All Purpose Cleaner and a rubber scrub brush. Unless you accidentally bump/scrub a curb with your tire and the coating is physically removed, then Acrylic Tire Protectant should last up to or over 6 months.
*If a satin/matte finish isn't really your style, then you can layer it to provide more of a shine.
 Check out the APEX Acrylic Tire Protectant here.
APEX Tire Shine (higher shine finish, no sling, water based)
For those of you who enjoy more of a wet looking tire, then our APEX Tire Shine is the option for you. Our Tire Shine provides a great shine that previously was only available in a solvent based dressing. With this water based dressing, you are able to apply in a couple different ways that are just personal preference. Spray it onto the tire and level out with an applicator, or spray it onto a microfiber towel/applicator and rub it on.
The product will last a couple of washes, won't sling, and is non flammable (this may sound random, but the effects are cool). With the product being non flammable, it becomes useful in other aspects of cleaning your vehicle. You are able to also use this product as an engine bay dress up. Just clean the plastic and rubber hoses around the engine, mist it down with Tire Shine, and close the hood. Done!

*You can also dress up the plastic in the fender wells*
Check out APEX Tire Shine here.