Regular price
$99.00 USD
Sale price
$99.99 USD
Unit price
per
Sale
Sold out
Interior ceramic coatings are for professional detailers and avid enthusiasts looking to protect and preserve the interior of their vehicles. These specialized, proprietary nano-crystalline coatings provide long-lasting protection and enhancement for various interior surfaces, such as leather, vinyl, and plastic.
By forming an ultra-thin, transparent layer, they shield against stains, spills, UV damage, and everyday wear and tear. Interior ceramic coatings not only safeguard the surfaces but also impart a fresh finish that makes interiors look impeccably clean and well-maintained. With their exceptional durability, ease of maintenance, and resistance to contaminants, these coatings ensure that vehicle interiors remain in pristine condition for an extended period. 
Not for aniline (Napa) leather.

Directions:
Put on gloves, this is a professional product. Clean first with Apex Interior and Leather Cleaner (or another high quality interior and leather cleaner). Saturate a suede applicator or a similar tool with several drops of the product from the bottle. Apply the coating onto a one square foot area of the surface to be shielded, using a crisscross pattern with a slight overlap to ensure an even application.
Let the coating cure at room temperature until it becomes slightly tacky (check with a gloved finger), then gently eliminate any excess product using a clean suede cloth or a low-nap microfiber towel. DO NOT allow the coating to come into contact with water during the 24-hour curing period – if it does, promptly remove the water with a microfiber towel.
DO NOT apply the product in direct sunlight or to a hot surface. The curing time depends on environmental conditions - it's advisable to test the product on a small, inconspicuous area first to determine the curing time.



Share
View full details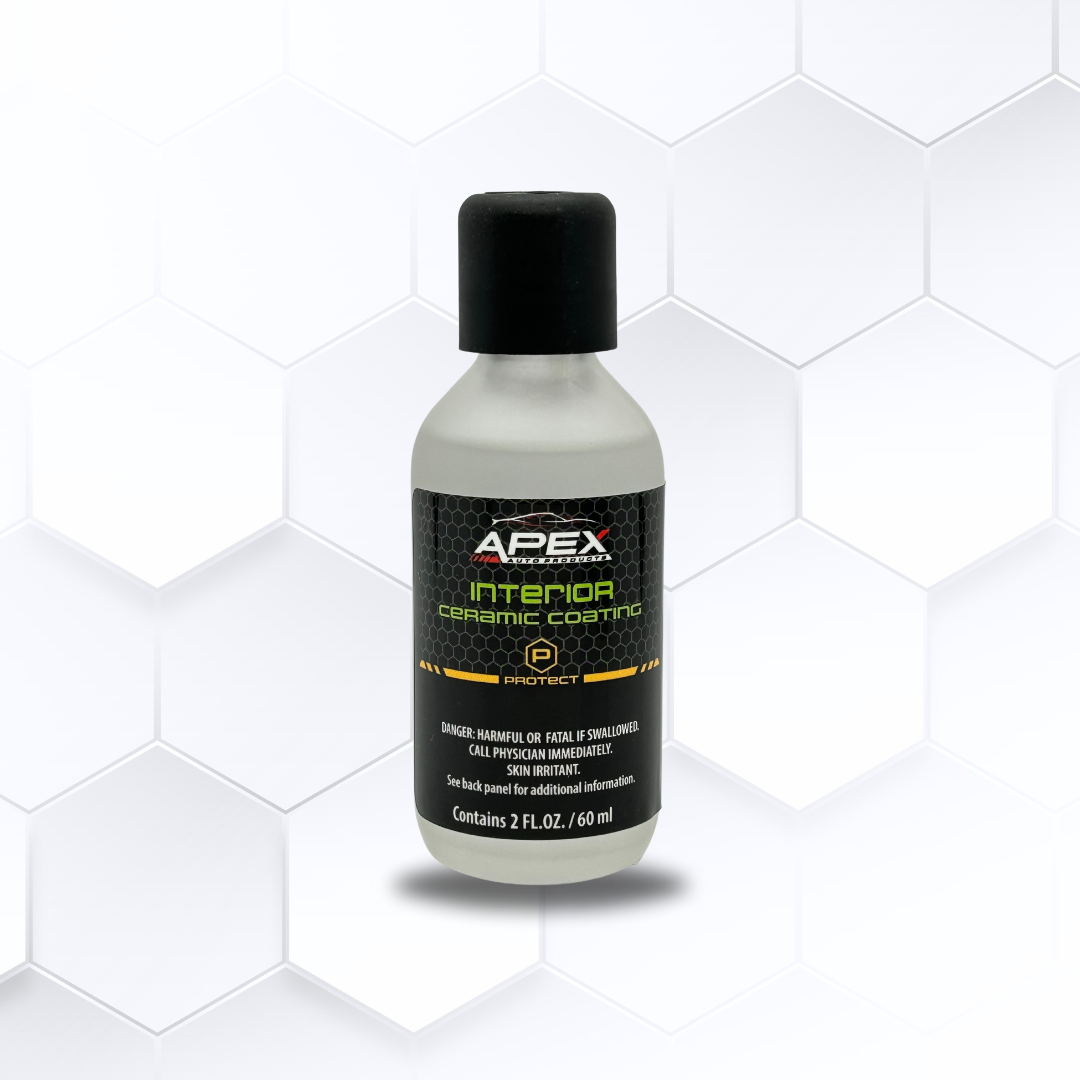 Tap For More Info:
QUICK DETAILS

- Flexible and Ultra Thin Coating (1 micron)
- Comes in a large 60 mL size. Can do multiple vehicles easily.
TIPS/ PRECAUTIONS

- Coats Leather, Vinyl, and Plastics.
- Protects from UV Rays, Stains, Spills, and Everyday Wear and Tear.
- Formulated to Provide Protection for up to One Year

RISK FREE GUARANTEE

In the off chance you are unsatisfied with your purchase, please take a look at our risk free return policy