Regular price
Sale price
$18.99 USD
Unit price
per
Sale
Sold out
APEX'S #1 Best Seller Spray And Seal - Watermelon has been improved! With less dye, the improved product is now a lighter pinkish red than shown in the photos. 
Rev up your vehicle's exterior with APEX's best-selling Spray And Seal - Watermelon! Infused with polymers and silica, this spray-on and wipe-off sealant technology provides hydrophobic properties, slickness, and shine that lasts up to 3 months! 
This is the ultimate in easy to use layers of protection that shields your ride from harmful UV rays, oxidation, surface contaminants, and more! Perfect for all surfaces, including glass! Effortlessly achieve stand-alone protection without the need for traditional cream or paste-based coatings. 
You can even boost the hydrophobic properties of your ceramic coating with this easy-to-use formula. Simply spray on and buff off with a microfiber towel, then watch the water bead off treated surfaces. This is great for windshields on a rainy day! 
Enjoy the aroma of juicy watermelon as the product revitalizes your vehicle's exterior. Made in America and Detailer Approved, APEX's Spray And Seal - Watermelon is your ultimate guarantee of quality. Try it today, risk-free! 
Please note: use only on clean or lightly dusty vehicles. Not intended as a waterless wash or quick detailing wipe-down. Suitable for use on paint, plastic, rubber trim, and glass.
Scroll below our reviews for more details on this product!
Share
View full details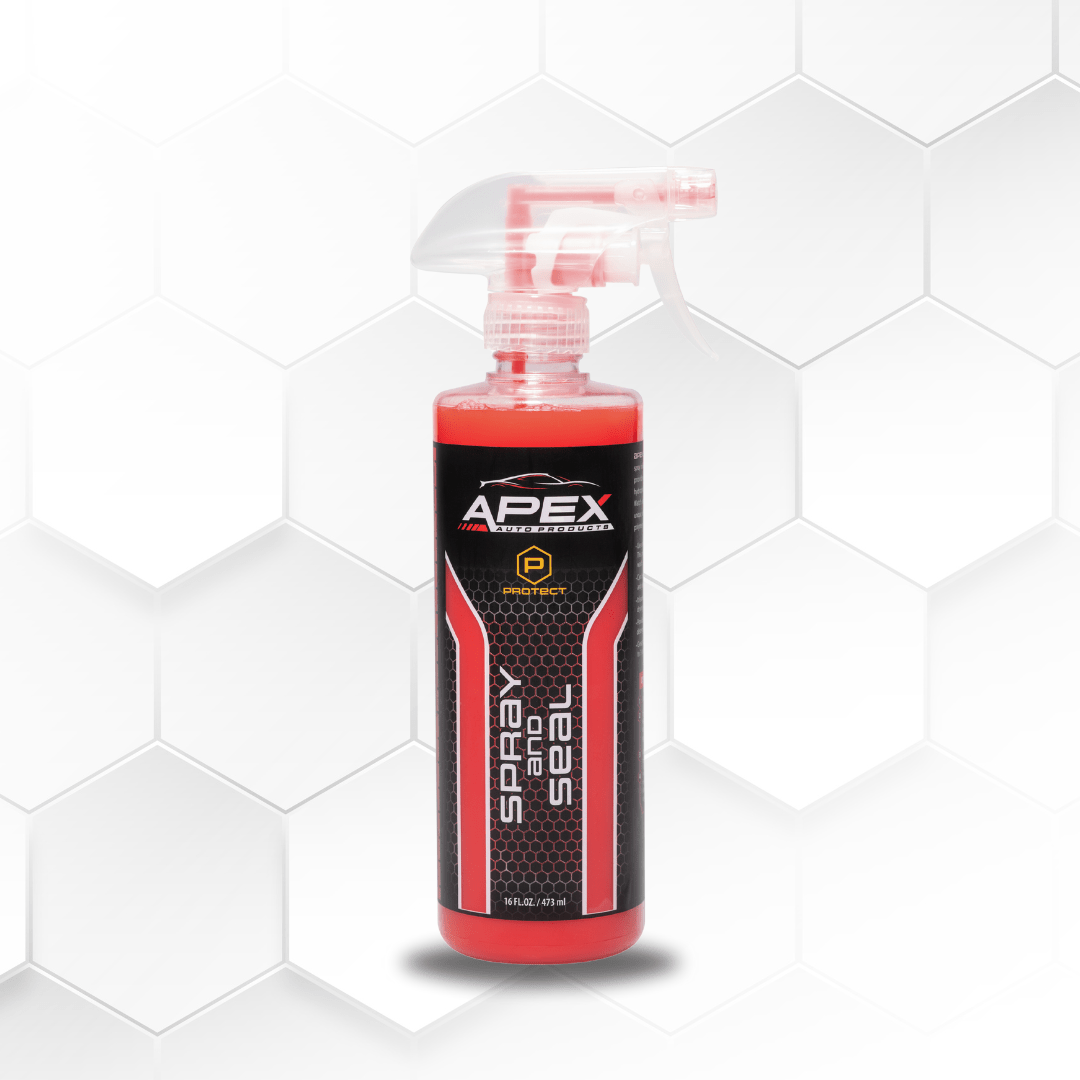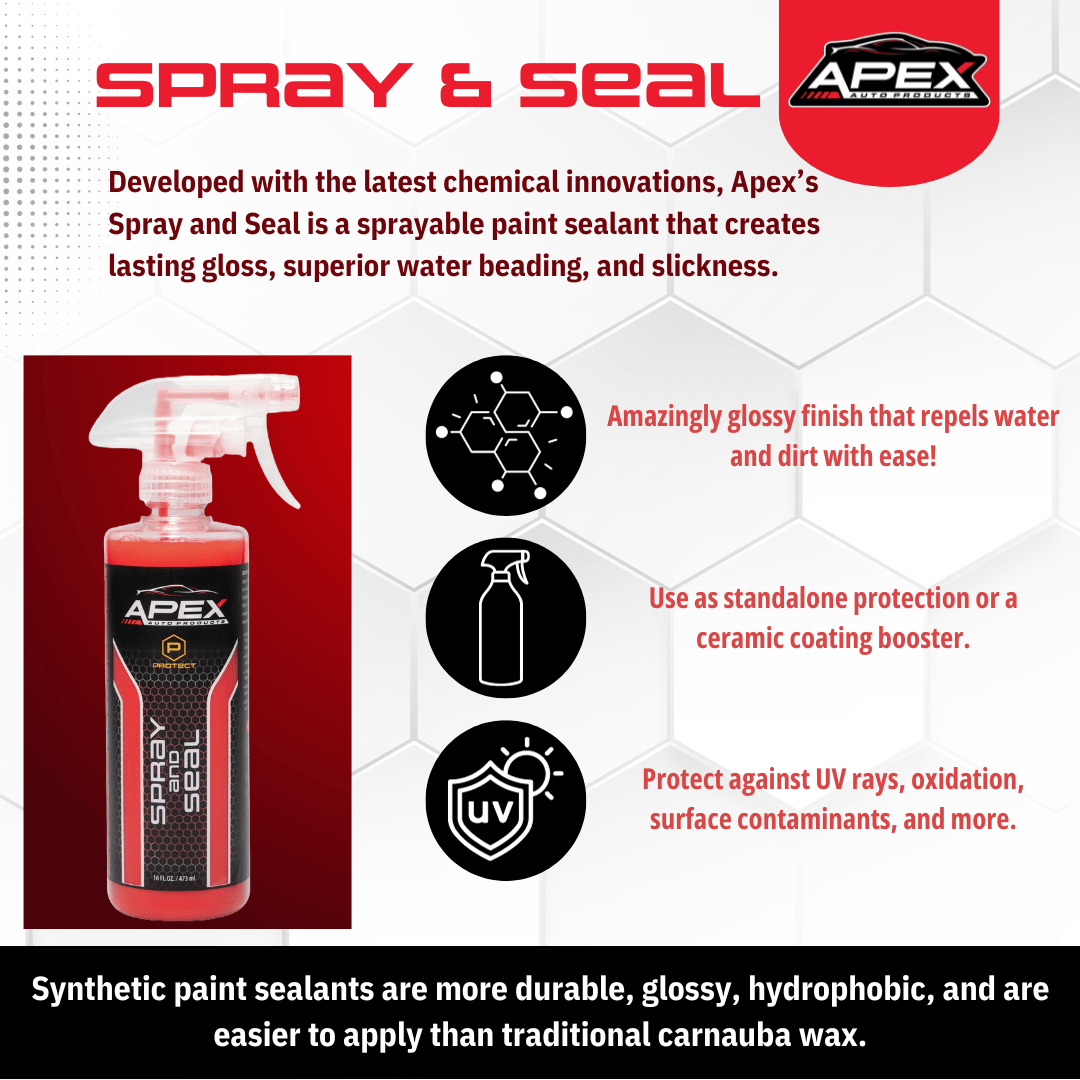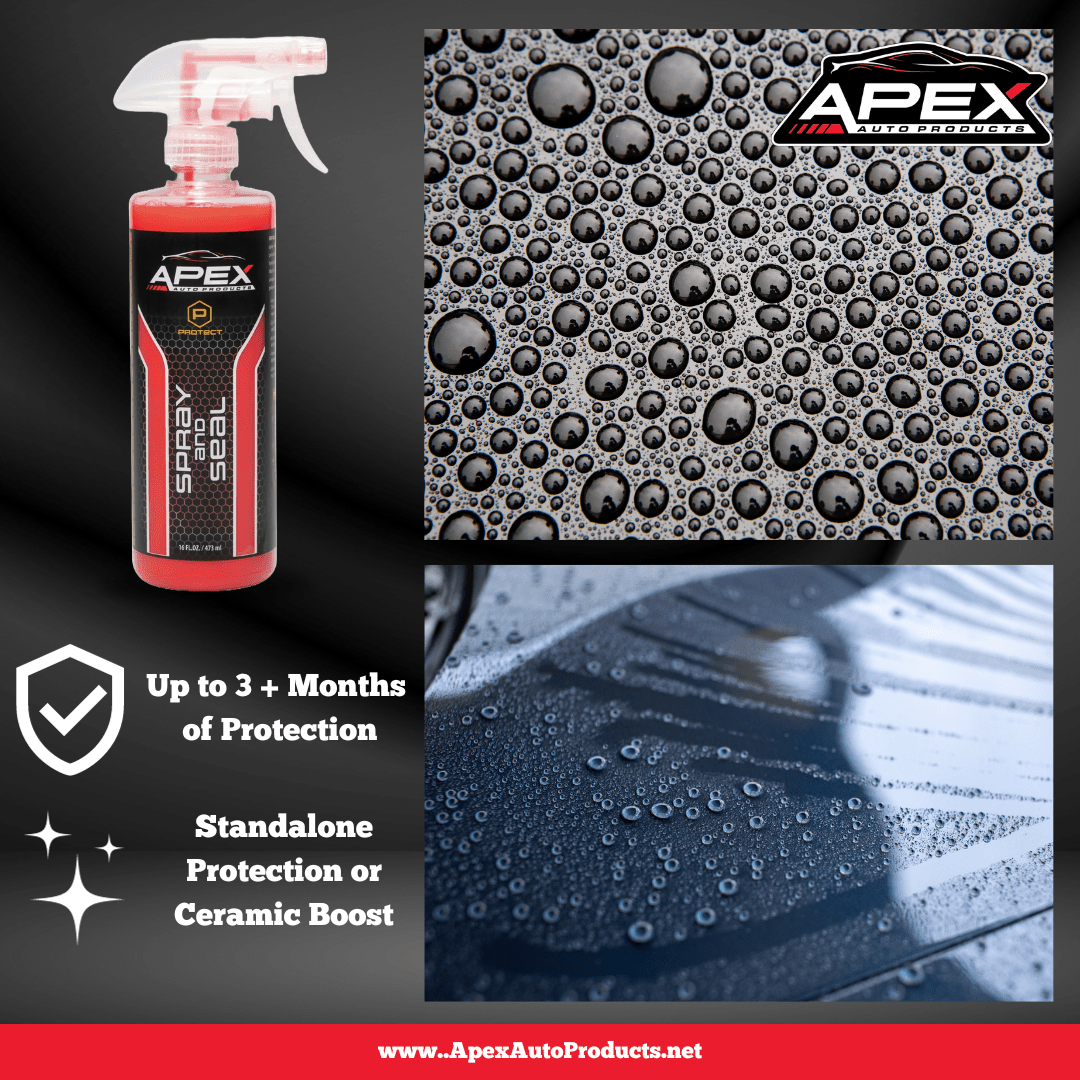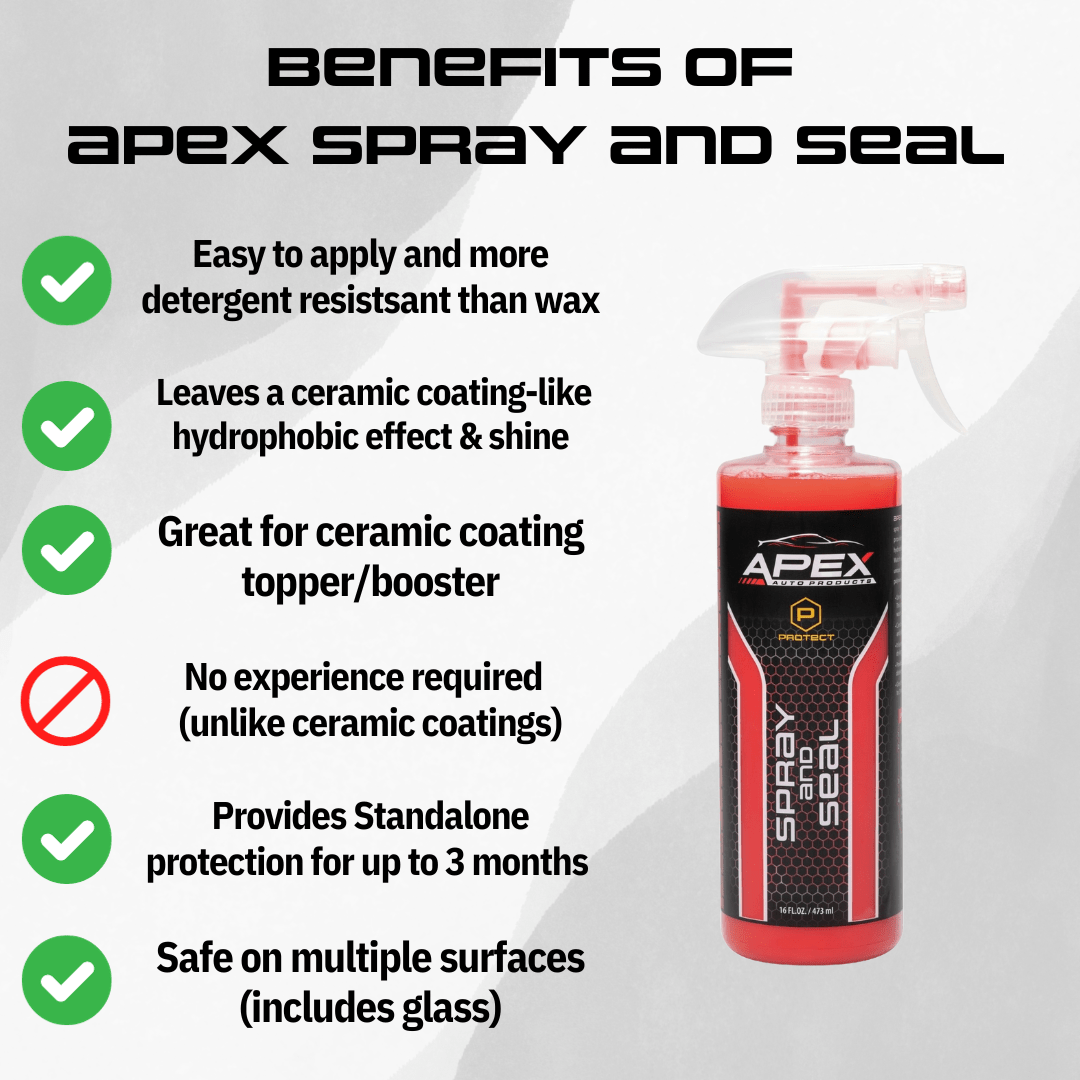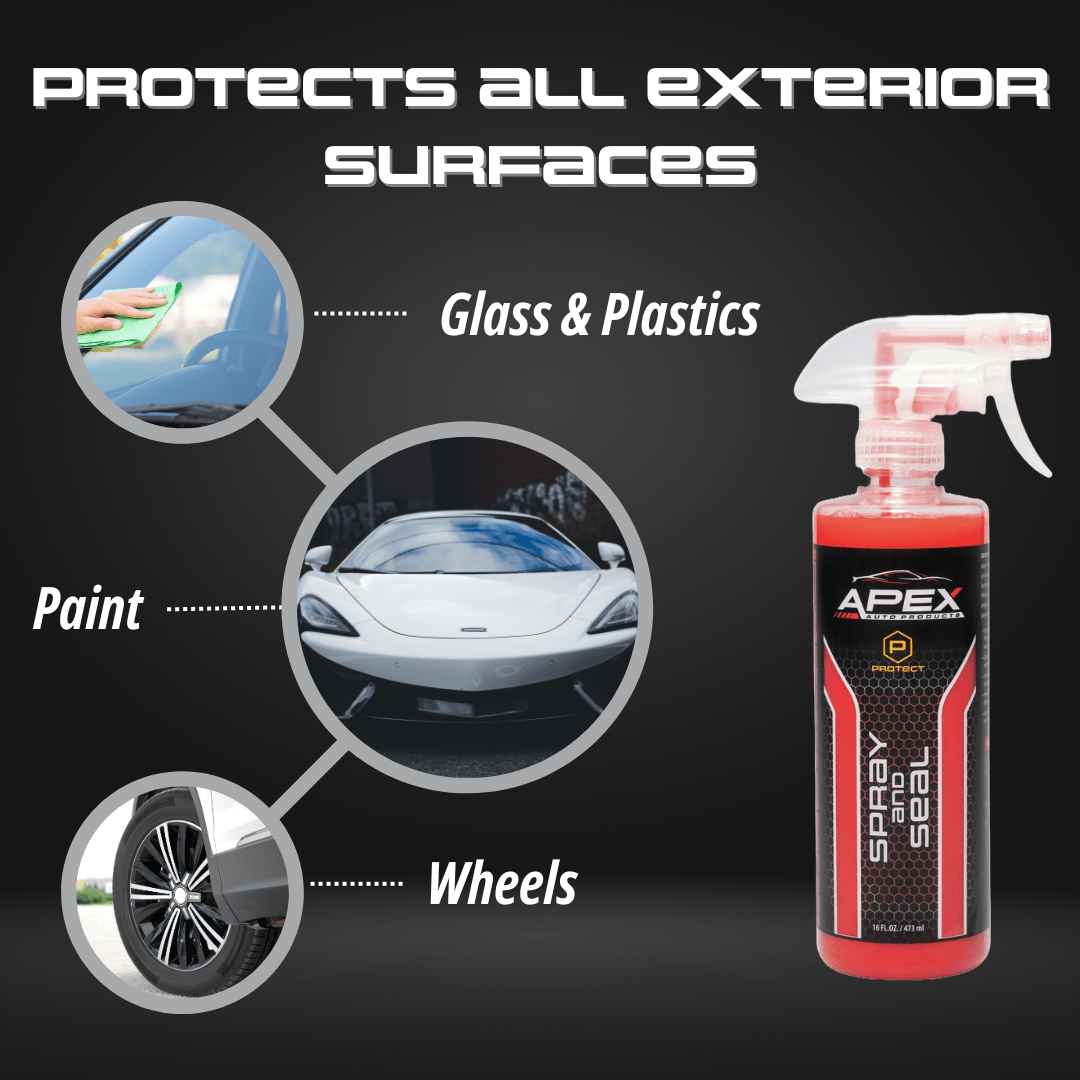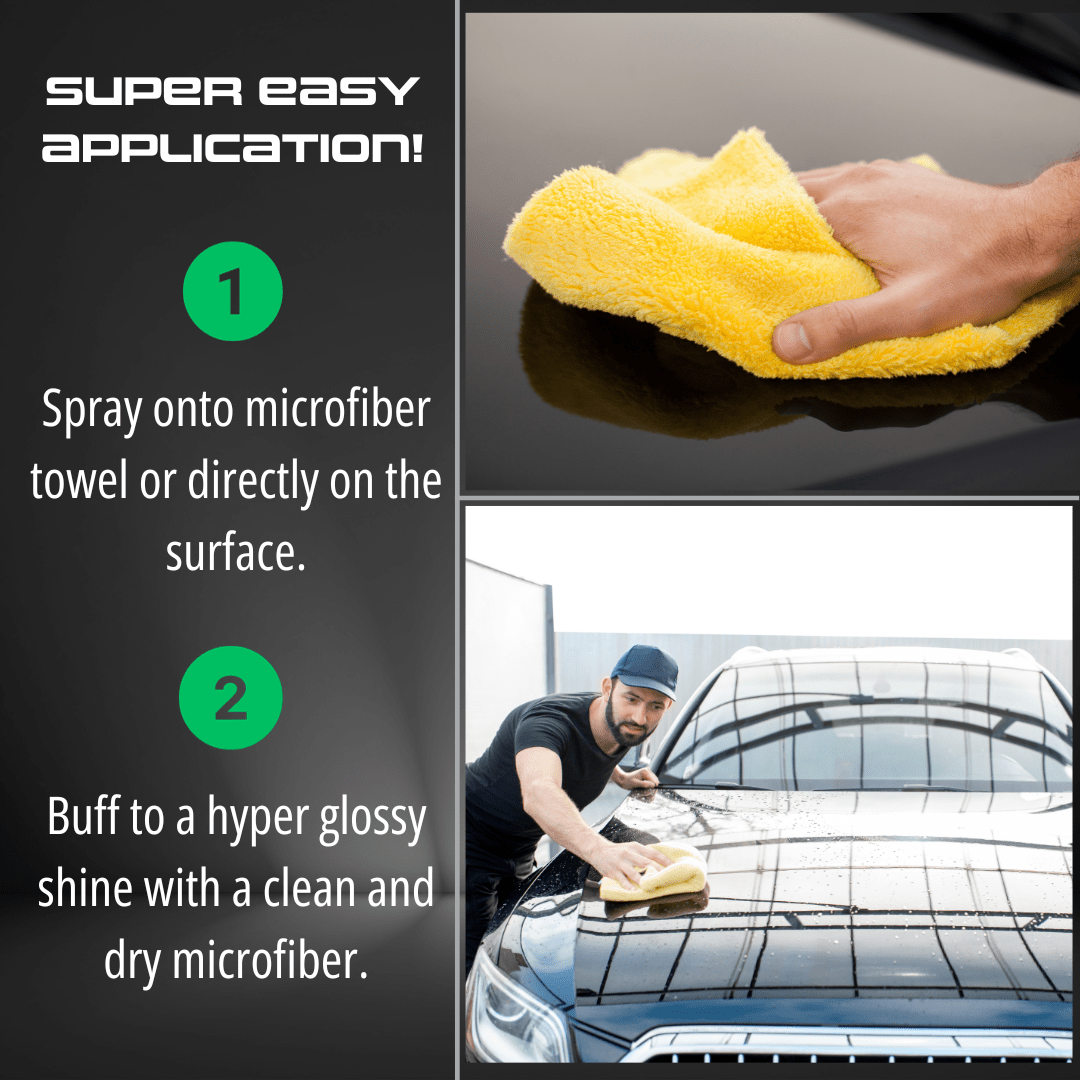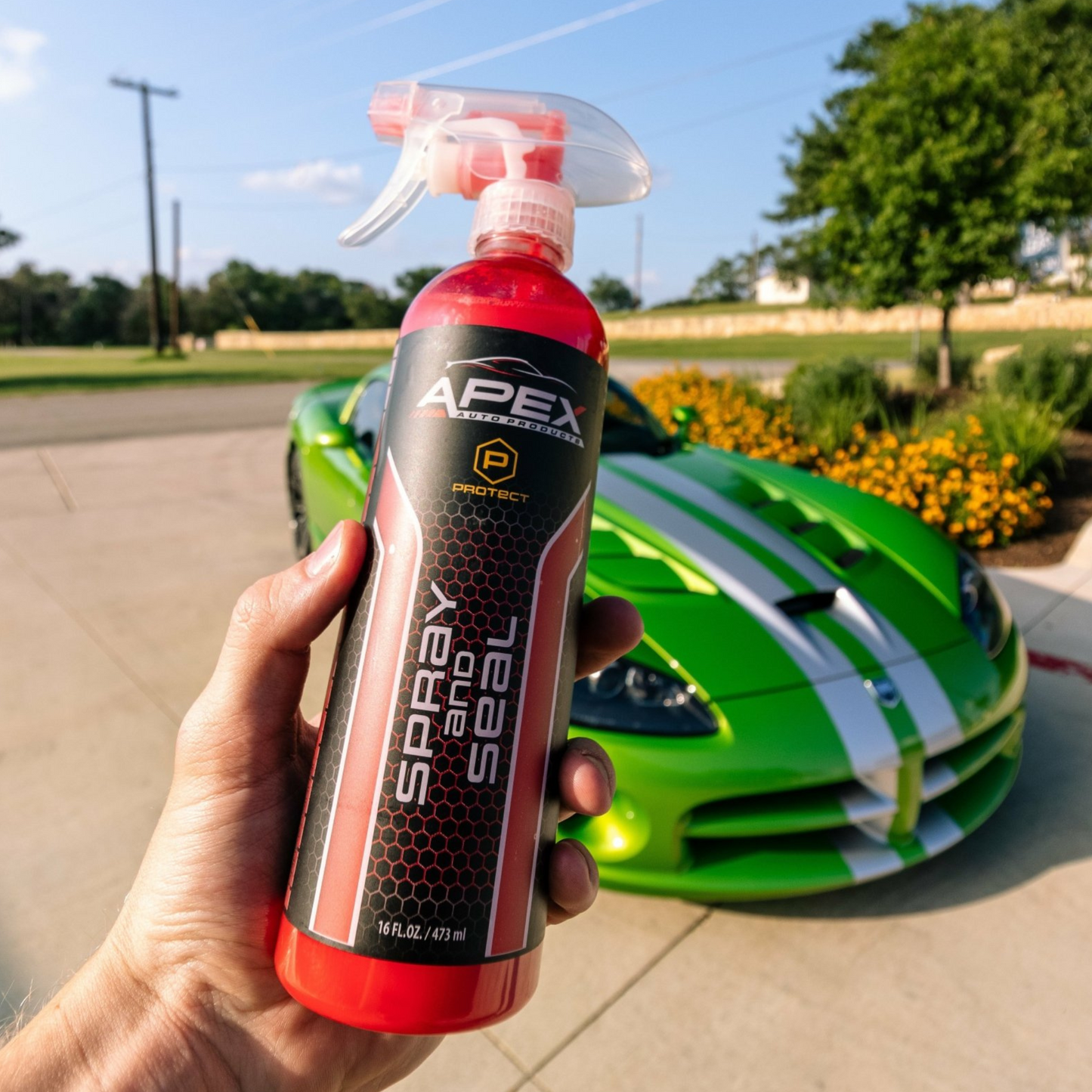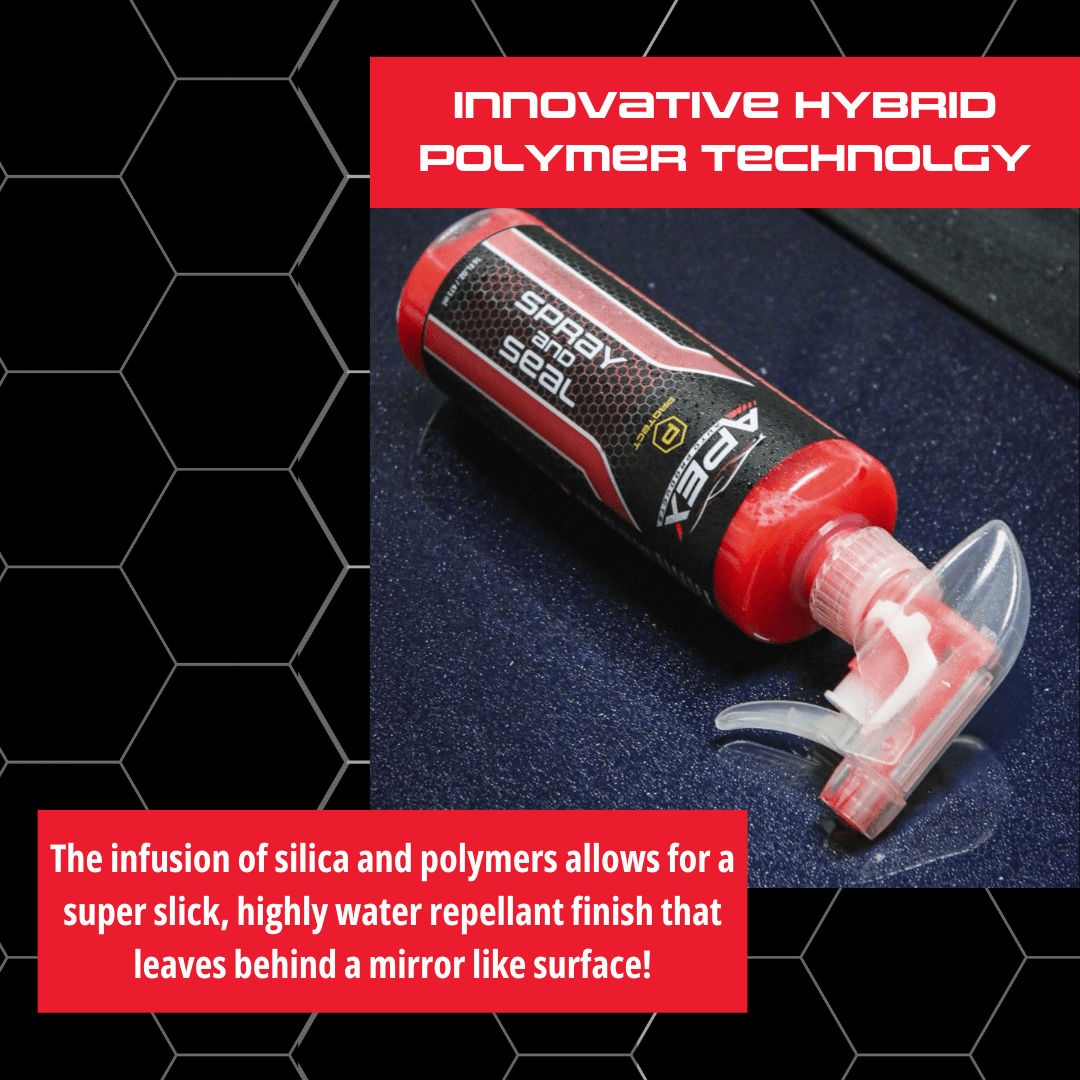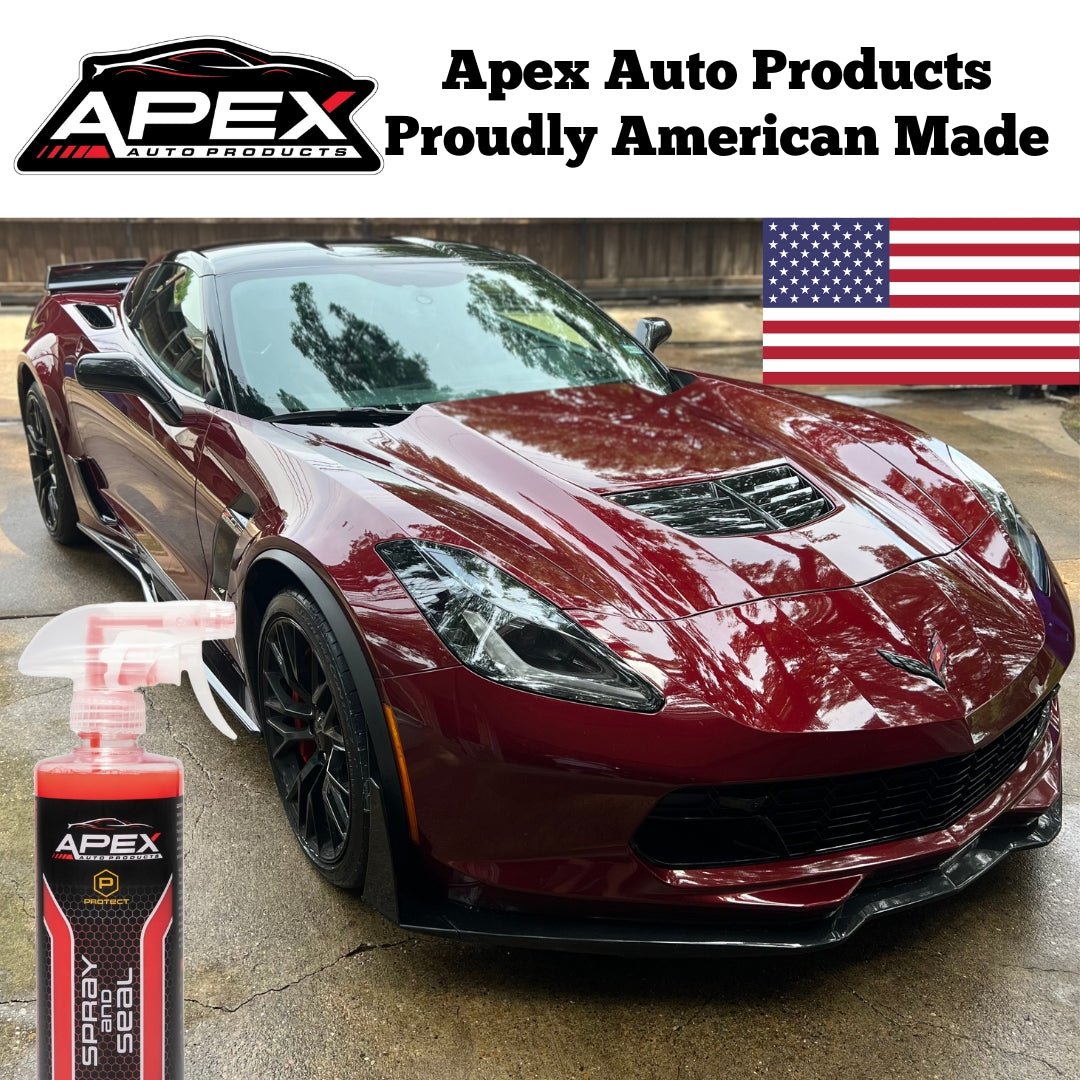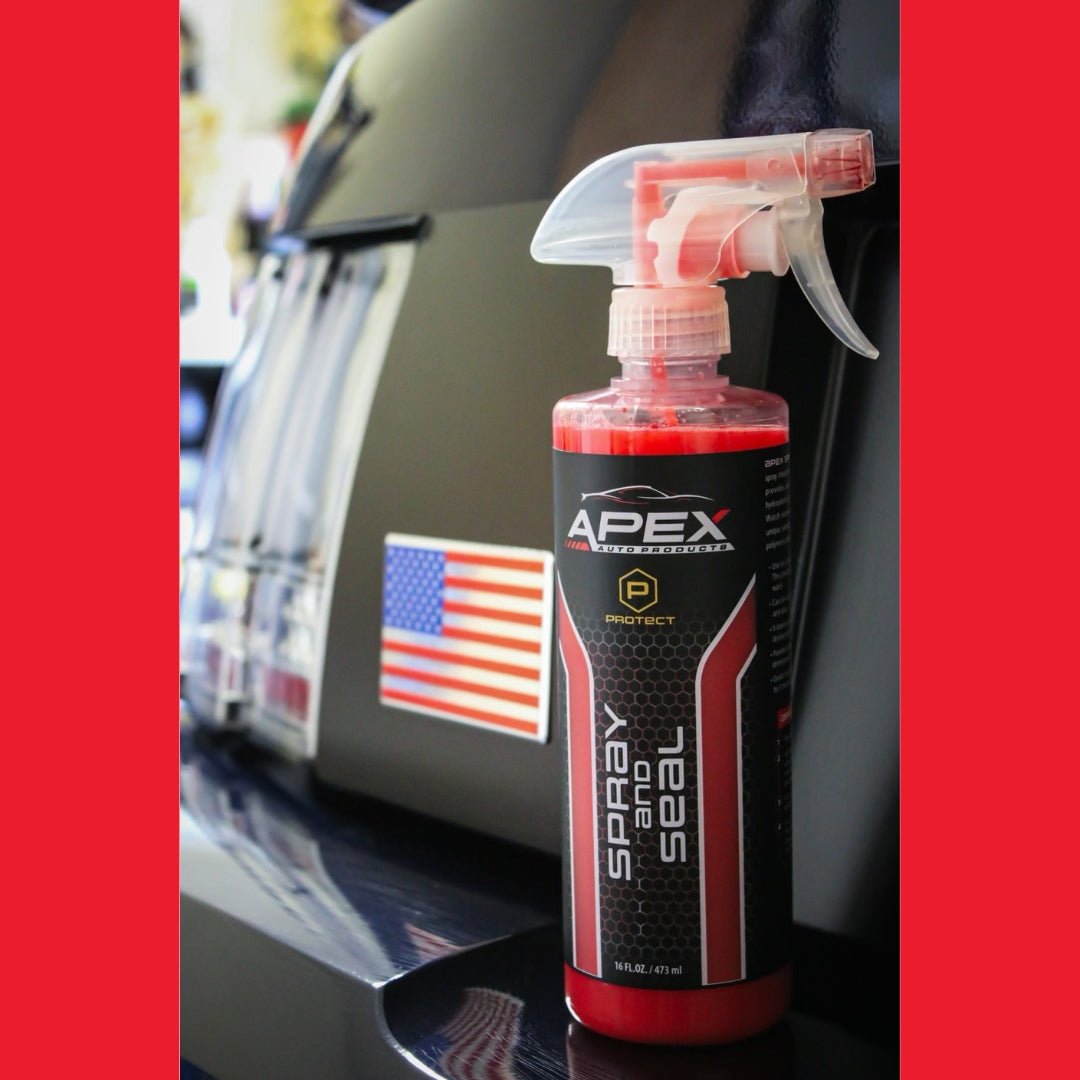 Tap For More Info:
QUICK DETAILS

-Can be used on paint, plastic, rubber trim, and glass.
-Gives incredible shine and a frictionless surface
-Hybrid polymer and silica technology
-3 months of protection
-Great as a topper or standalone protection
-Hydrophobic effects
-Leaves only active ingredients behind after drying with a simple spray on and wipe off.
-Awesome watermelon fragrance!
TIPS/ PRECAUTIONS

-Can be used as a drying aid while washing
-Use product in the shade.
-Use on a clean vehicle only as this product is not intended as a waterless wash or quick detailing wipe down.
RISK FREE GUARANTEE

In the off chance you are unsatisfied with your purchase, please take a look at our risk free return policy
Spray and Seal
Used on my Jet skis. Water rolls right off. Prevents water spots. Works great.
Great Products ata Great Price
I recently purchased a number of products from Apex. The product descriptions online were clear and the products lived up to those descriptions. Compared to some other products I have used, their prices are very competitive, the packaging is well done and the car looks great! Shipping was also done on schedule and everything was wll packaged. Great job Apex!
Fantastic
Works very well. I sprayed it on right after washing but right before I dried it off. My paint isn't perfect by any means but this honestly made it look like a mirror. Lasted for a couple months. Highly recommend.
Good product at a very good price!
Slip and slide
This stuff is fantastic. I took a chance on this stuff after seeing something on TikTok, I thought how much could it be for $20. I cannot get over how well this stuff works! It's my go-to after I wash my car. The instant beading is insane!! I'll be ordering more soon :)