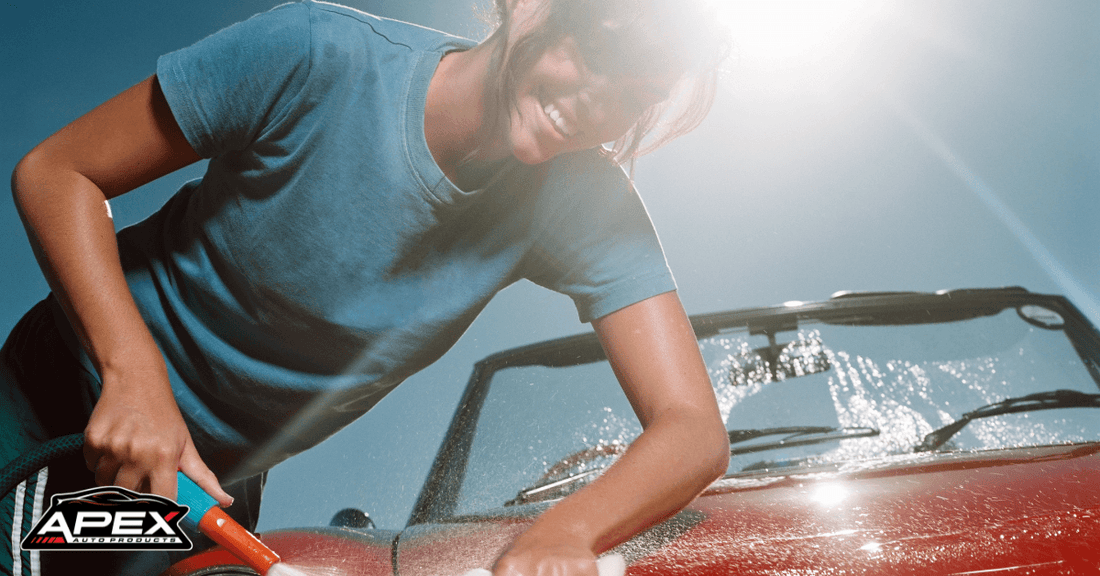 Keep Your Car Shining All Summer
Keep Your Car Shining All Summer
Easy-to-Use Car Cleaning Supplies
Summer is still in full force, and if you're looking forward to hitting the road in your vintage car, you'll want to keep it looking as shiny as possible. Use these tips and the right car cleaning supplies to keep your ride in excellent shape!
Don't overlook your wheels.
It's always best to start your car cleaning routine with the wheels. This is because rinsing the wheels can often cause dirty water to spray up onto the rest of the car. And if you've cleaned the body of the car first, you'll have to clean it again. Use APEX Wheel Cleaner for an easy clean. Simply spray a generous amount on your wheels and watch as the formula turns purple to indicate it's breaking down the grime and brake dust. Then, agitate with a wash mitt, use the APEX Wheel Barrel Brush Set on the wheel barrels, and rinse thoroughly.
Get a streak-free shine.
Hot, sunny days are the bane of proud car owners everywhere. It's typically best to wash your car on a cloudy, moderate day to avoid streaks and water spots. If that isn't possible, move your car into a shady area in the morning or evening and then wash it. Use two buckets—one with soapy water, another with clean water, and a grit guard for rinsing your wash mitt between scrubs. Then, dry your car with a microfiber towel. You can also use APEX Quick Detailer to remove any lingering streaks and spots and to give your car a glossy shine. (Not to worry! This product can even be used in direct sunlight!)
Complete your routine with a sealant.
Did you know there's a significant difference between car sealant and car wax? Wax sits on the surface of the paint, whereas sealants form a chemical bond with the paint. This means that sealants offer greater durability and staying power compared to waxes, and they can also help your paint job resist the effects of UV rays, grime, and environmental pollutants much better than wax can.
After you've scrubbed and rinsed your car, apply APEX Spray and Seal. Simply spray on and buff off with a microfiber towel to get up to three months of protection. It's safe for use on all surfaces, including glass, and it aids in the drying process.
For all of the car cleaning supplies you need to show your pride in your ride, turn to APEX Auto Products. We offer an unbeatable 100% guarantee on all of our car detailing products. Shop today, and be sure to check out our rewards program!